Oliver's Story
CARITAS For Children
At five years of age, Oliver became part of the CARITAS For Children family when sponsors opened their hearts to her and began supporting her education. The story of CARITAS For Children's encounter with Christ, when Oliver's introduction was made on a dusty road in Uganda, is told below.
The Story
At five years of age, Oliver became part of the CARITAS For Children family when our location coordinator came across her in a remote village in Uganda, wandering along the road near a field where she had been working. A tiny little girl with a hoe bigger than herself, undernourished, dressed in tatters, all that she knew was working under the hot sun as she had been doing since she was able to walk. One of five children of a young, widowed mother with no benefit of education, Oliver's future looked bleak.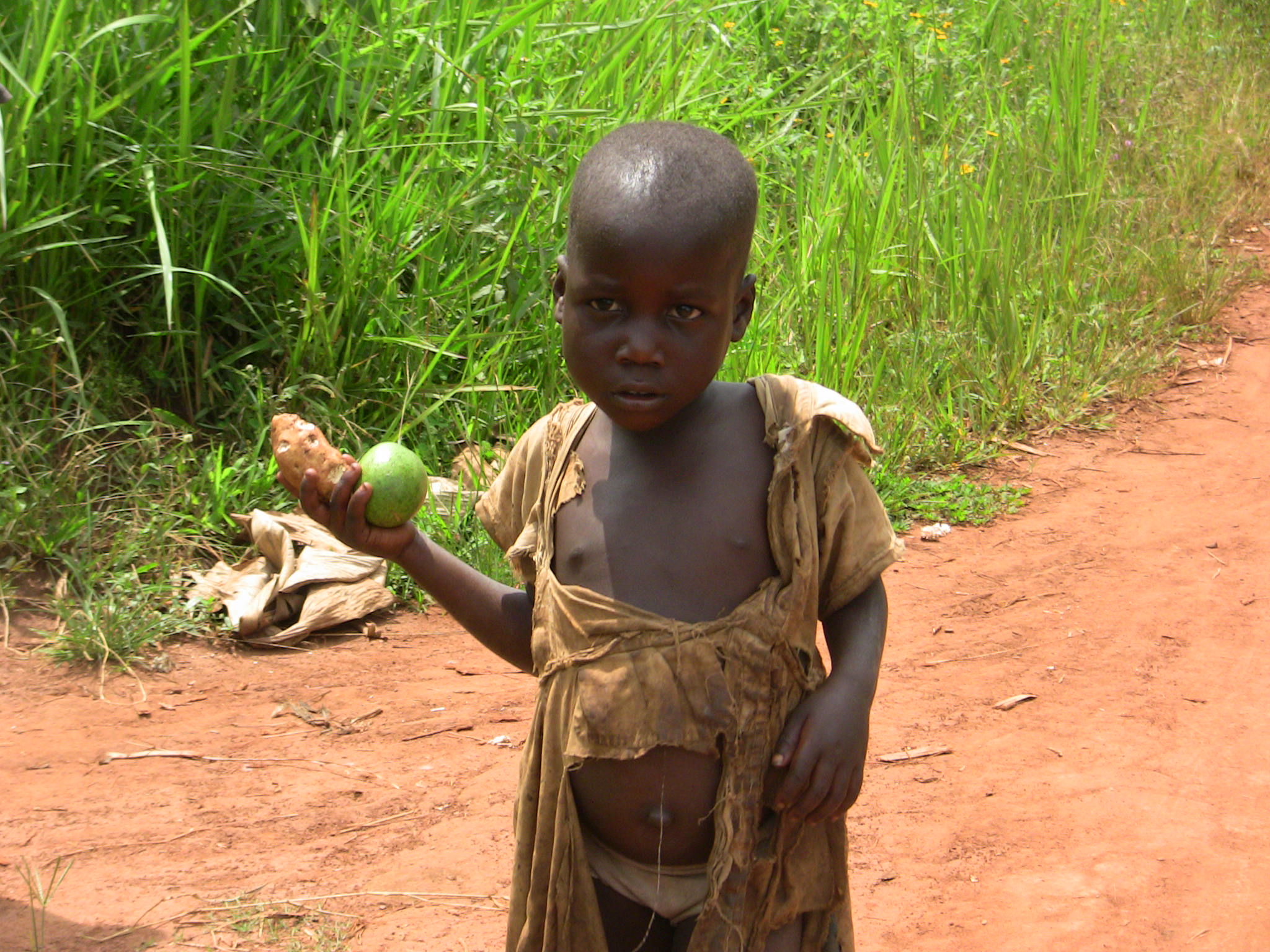 Oliver holding the lunch she managed to find in and around the field.
A new life should be full of possibilities and promise. Yet, children born into poverty in East Africa or Haiti, share similar fates — struggle and diminished possibilities. Living to the age of five is a victory over the odds.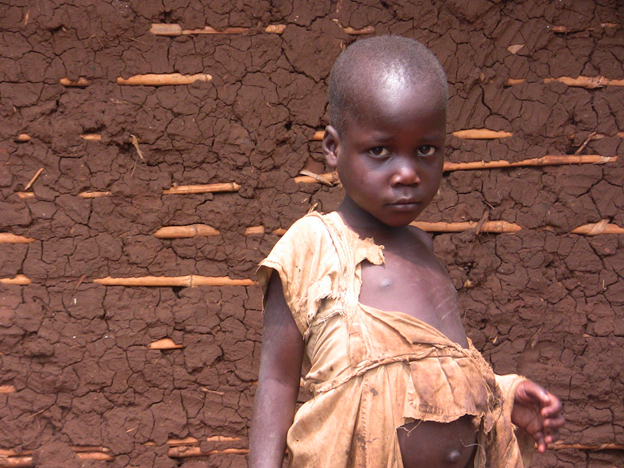 What must this little girl have been thinking?
God Makes All Things New
Our location coordinator knew that if Oliver had any chance of rising up from her situation it would be at Stella Maris Primary Boarding School. Health issues prevented Oliver's mom from providing proper care for her children. Without the help of Oliver's father, they were no longer surviving on subsistence farming.
Even if CARITAS For Children had helped to enroll Oliver at a day school, her mother was not in a position where she could get her little girl or any of her other children off to school each day.
A sponsor family was sought, and the Nettesheim and Ecklond families opened their hearts to Oliver.
Three years later, Oliver is a happy and secure little girl in her second year at Stella Maris Primary Boarding School in Uganda. She has nutritious food, a stable environment, a warm bed, a quality education, and the love of her friends, the sisters, and her CARITAS sponsors.
The Nettesheim and Ecklond families also feel blessed by this relationship.
"For Oliver, the change in her is amazing and it is not just about academics. From reading her letters we can see the difference in her as her handwriting improves and her drawings progress. She is happy, confident and looking forward to the future. It is so rewarding to know that our support, love and encouragement for Oliver has empowered her to make such a positive change in her life. We were so moved by this relationship that we also decided to sponsor her siblings which has been a very gratifying experience to witness their progression." ~Joel Nettesheim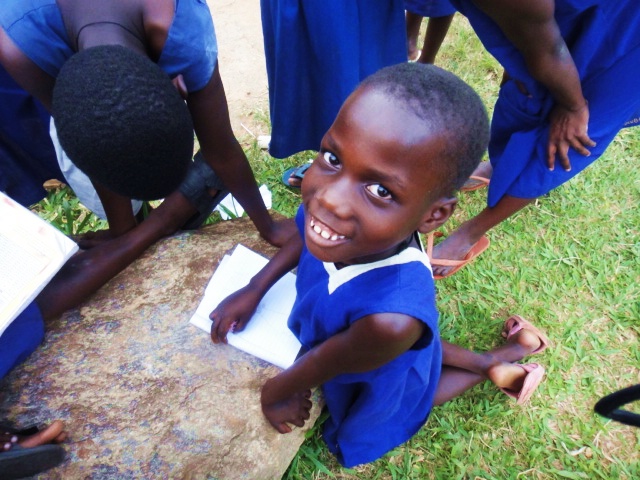 All the children gathered around Oliver, in this recent photograph, are her friends in P2 as well as P3. Her drawings of people such as the bishop and the apostles caused a great deal of laughter and praise as her notebook was passed around.
Annual Appeal
Child Sponsorship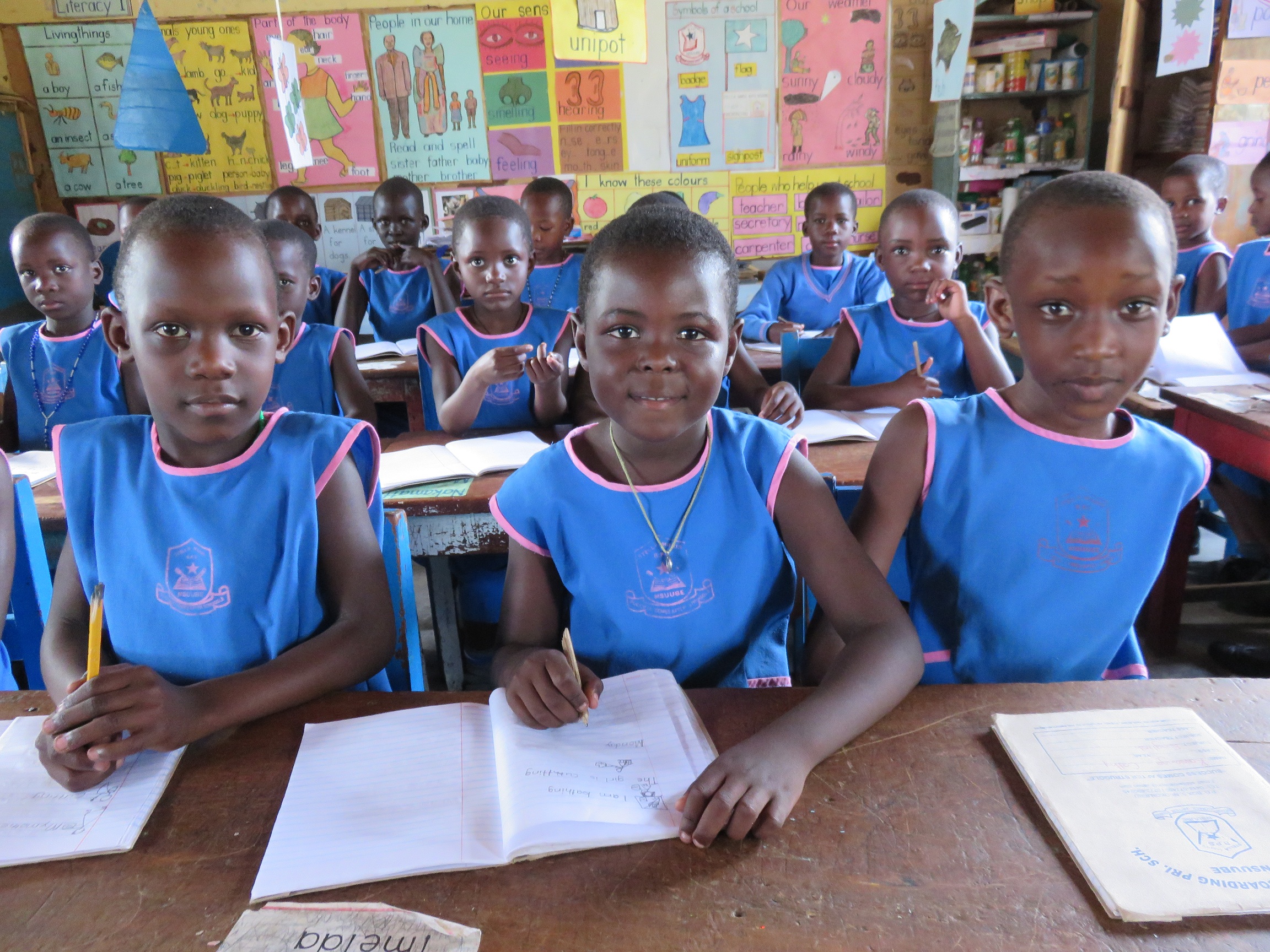 Sponsor A Child
Stay Updated

Our e-newsletter is a great way to learn more about us and stay updated on events. Please enter your email address below to subscribe.